To keep your game assets secure, you will have to set up your 6-digit PIN when using Coins Arcade for the first time.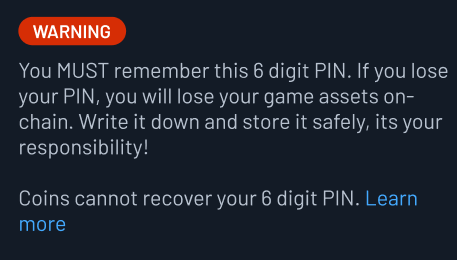 Make sure to remember this PIN as only you will know this. Coins does not keep a record of your PIN and we will not be able to recover this for you. If you forget your PIN, you cannot reset your PIN and would result to the loss of your game assets on-chain. Coins will not be liable for any losses. Your PIN is your responsibility.

TIP: Store your 6-digit PIN in your preferred password manager platform or write this down on a piece of paper and secure it in the bank or safety deposit unit.


If you have any questions, you may reach out to us from the in-app Help Center or send us a message here.