If you are prompted with this notice "You need to pass KYC first." while navigating through Coins Pro, this means that your account is not yet Level 2 verified.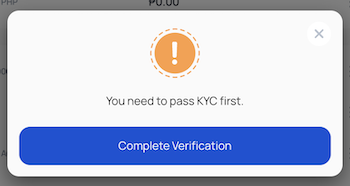 Please be informed that the complete features and functionalities of Coins Pro will only be made available for users who are at least ID and selfie verified.

Kindly click on "Complete Verification" and proceed to Coins.ph Limits and Verification page. Next, follow the steps provided to submit your verification. Once approved, you will have full access to the suite of products and services available on Coins Pro.