We process payments within 3 business days (excluding weekends and non-working holidays). After settling your bill, a confirmation email containing the details of the payment will be sent to the customer via email as seen below: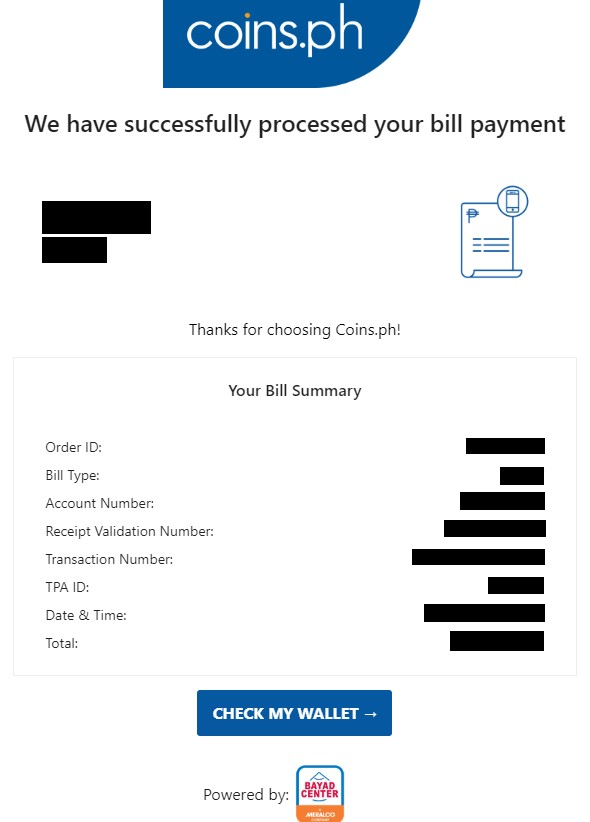 The email will serve as confirmation that your bill has been successfully paid and will be posted on the service provider's end within 1-3 business days.
TIP: There may be cases where pending payments will reflect on your next billing statement. But don't worry! You may contact your service provider to clarify your account concerns.
What do I do if I provided the wrong details for bill payment? 
In cases where you accidentally provided wrong details upon placing your bill payment (i.e. wrong account number, wrong account name, wrong amount, etc.), we are happy to assist you!
Simply send in a copy of your billing statement via email to help@coins.ph, and we'll take it from there! You may send us the Order ID, Confirmation email, and a copy of the Billing statement.
Just a friendly reminder, it would be best to make sure that all the payment details are correct before confirming to pay your bill.
Will I get a receipt once my bill has been processed? 
Unfortunately, we don't support this feature yet. But you'll receive a confirmation email that your customer's bill has been processed.
We recommend checking with the specific biller to get a copy of the official receipt once your order has been successfully processed.