As a Coins.ph user, you may have multiple wallets, a PHP wallet, a BTC wallet, an ETH wallet, and more. (What is the difference?)
Every transaction you make - for example, pay bills, buy load, receive money - gets recorded in your wallet history. You can choose to view the transaction history of every wallet by simply choosing the particular wallet under "All Wallets" then clicking on it. The wallet transaction history found on the bottom of the browser would automatically change once you click.
Your Recent Transactions show when, how much, and how (e.g. Globe Prepaid, Smart, Sun, etc.) you received or sent money
To see more details, just click a specific transaction and you'll see - if applicable - the bank account name and number you sent money to or received from, the mobile number you loaded, and even the specific hour and minute you made the transaction, etc.
If you regularly transact in Bitcoin, your BTC history also shows the conversion rate at which you converted BTC to PHP, and vice versa.
This way, you feel secure knowing where every Peso, BTC, ETH, BCH, or XRP came from and went.
You may check your transaction history on the web browser.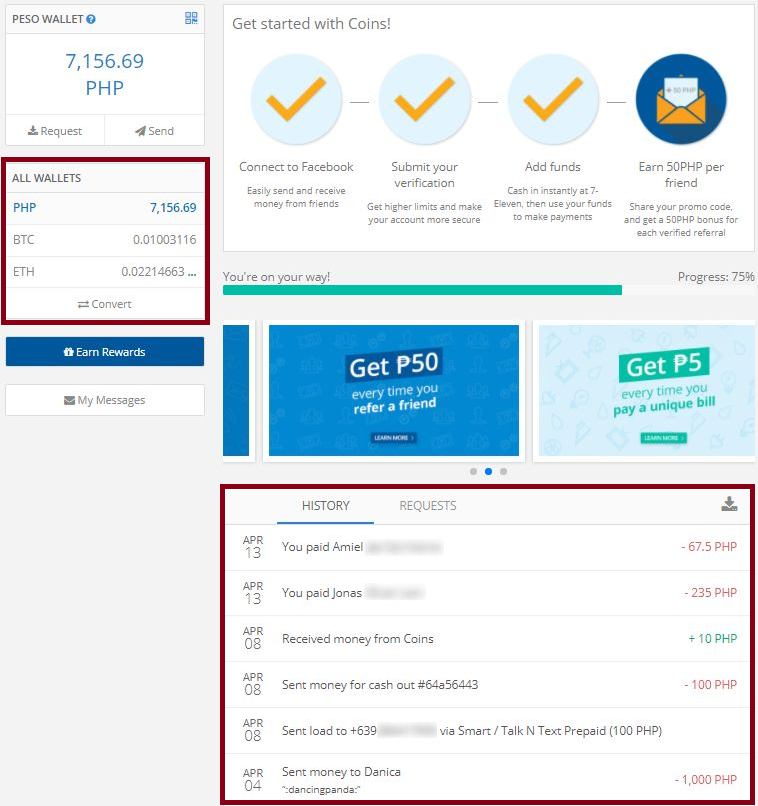 You may also download your transaction history by clicking on the button beside requests.

You may also check your transaction history on the mobile apps (Android or iOS), by clicking on "History" on the particular wallet you would like to check: