It's fast and simple to cash out through bank transfer!
1. On the dropdown menu, choose which bank would you like to cash out your funds to.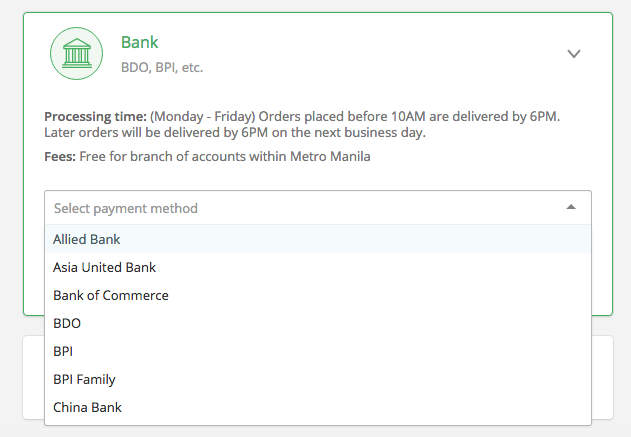 You may Cash Out to the following banks:
Al-Amanah Islamic Bank
Allied Bank
Asia United Bank
Australia & New Zealand Bank
Bangkok Bank Public Co., Ltd.
Bank of America, Nat'l. Ass'n.
Bank of China
Bank of Commerce
BDO
Bank of the Philippine Islands
BPI Family Savings
China Bank
China Bank Savings
Citibank N.A.
CTBC Bank (Philippines) Corp.
Deutsche Bank
Development Bank of the Philippines
Dungganon Bank, Inc.
EastWest Bank
First Consolidated Bank
HSBC
Industrial Bank of Korea - Manila
ING Bank N.V.
JPMorgan Chase Bank
Keb Hana Bank
Land Bank
Maybank
Mega Intl Comml Bank Co. Ltd.
Metrobank
Mizuho Bank, Ltd.
MUFG Bank, Ltd.

PBCom

Philippine Trust Company
Philippine Veterans Bank
Planters Bank
PNB
Producers Savings Bank
PSBank
RCBC
RCBC Savings
Robinsons Bank
Security Bank Corporation
Security Bank Savings
Shinhan Bank
Standard Chartered
Sterling Bank of Asia
Suitomo Mitsui Banking Corp.
UCPB
UnionBank
United Overseas Bank Phils.
WealthBank
Yuanta Savings Bank, Inc.
Processed by InstaPay: Orders are processed instantly.
Processed by PESONet: Orders placed before 1PM (Monday - Friday) are delivered by 11:59PM. Later orders will be delivered on the next banking day.
*Other banks: Orders placed before 10AM (Monday - Friday) are delivered by 6PM. Later orders will be delivered by 6PM on the next business day.
2. Enter the amount you wish to cash out and choose a service provider available for your chosen bank.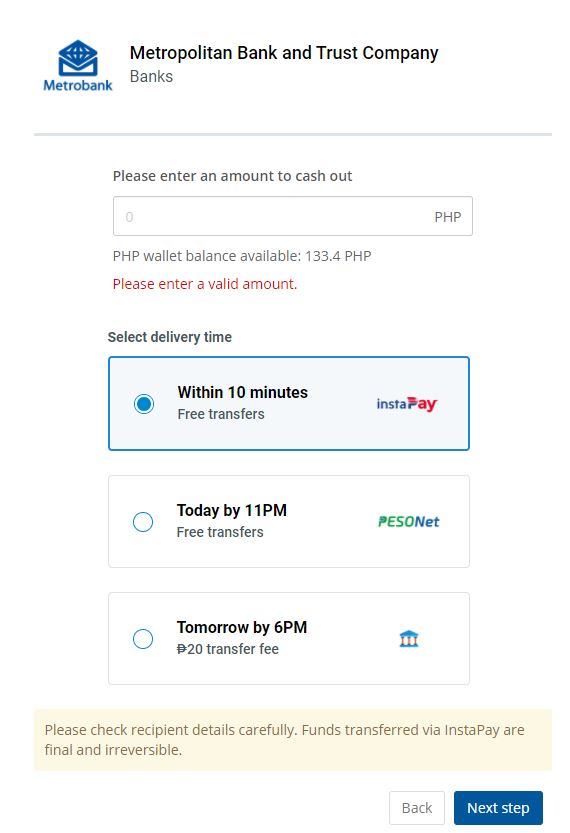 3. Enter the bank account name and number under the Recipient Details. You may also input a mobile number so that you can receive an SMS notification once the cash out is processed.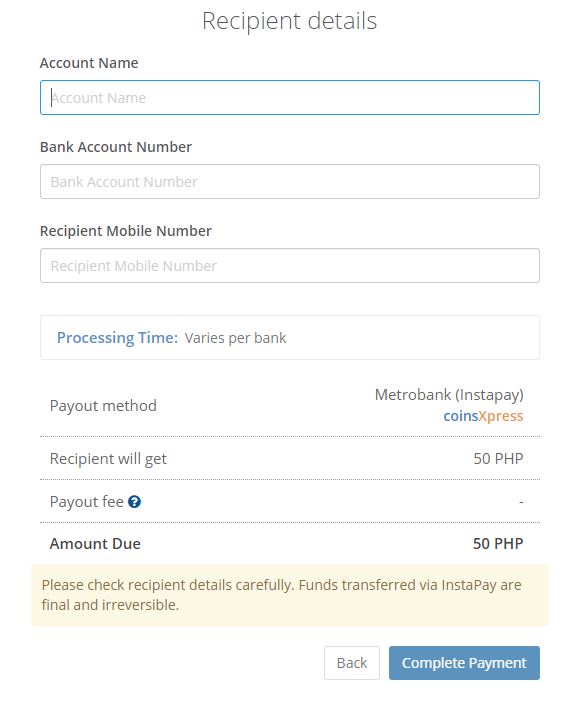 After we complete the transfer, a notification will be sent via SMS to the inputted mobile number. You will then be able to verify that you received the full cash out amount by checking your balance through your bank's services--through an ATM, by logging on to your online banking account, by updating your passbook, or by calling your bank branch and making a balance inquiry.
For real-time updates on this outlet, please check our Status Page.