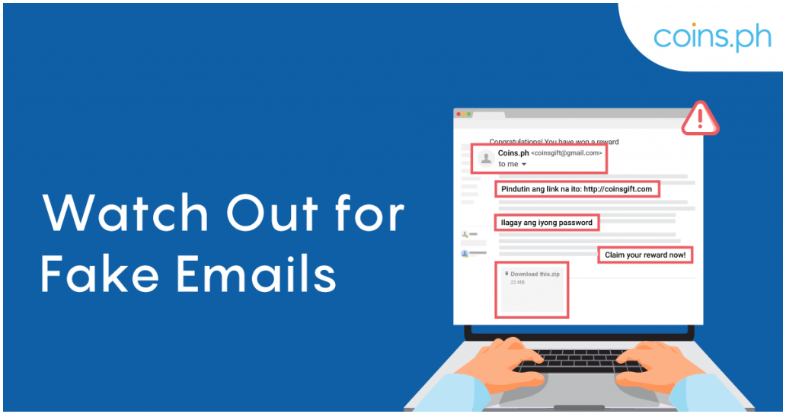 Stay alert and always verify the source of the emails you receive. Scammers can pose as a credible person or company and send fake emails that lead to fake websites.
These fake websites are designed to collect your personal information such as username, password, and verification codes for scammers to gain unauthorized access to your accounts. This is called phishing.
1. Incorrect sender email address

This is the biggest sign the email is fake. Although the email name may appear to be a trusted company, the email address would show an incorrect or misspelled variation of the legitimate address. Click on the email name to check the sender's email address to verify if it's a legitimate source.
Remember: Official Coins.ph email addresses end with @coins.ph.
2. Links to a suspicious website

Remember: For Coins.ph, you should always see https://www.coins.ph/ and https://app.coins.ph/wallet as the spelling of the website URL. Also, the URL must have "HTTPS". That "s" portion in HTTPS means "secure". It is a security protocol websites use to ensure your personal details cannot be phished.
Any other URL shown above like http://coimsph, http://app.coimsasia, http://dagdagpera and the like are fake URLs.
3. Asks for sensitive information

Some phishing emails would directly ask for your password, OTP codes, and other personal information. Ignore these requests and immediately report the sender to help@coins.ph.
Remember: Coins.ph and its employees will NEVER ask for your password, OTP codes, and other personal information through email, text, or call.
4. Has a sense of urgency

Phishing emails may claim that you have won a prize that will expire soon or your account will be terminated immediately if you don't take action. Exercise caution against time-sensitive emails. Scammers use this tactic to make you click on the link without checking other details of the email.
Remember: Coins.ph will never close your account without due process. Coins.ph promos are announced on the official Coins.ph FB page, blog, and in the app.
5. Contains suspicious attachments

If you have suspicions that you have received a fake email, DO NOT DOWNLOAD any attachments, especially if these end in .zip or. exe. This may contain viruses or malware.
Remember: In the rare instances that you receive an email with an attachment from Coins.ph, it will be in PDF or DOC format only.
WHAT TO DO WHEN YOU RECEIVE PHISHING EMAILS
If you received a possible phishing email, or visited a possible phishing site trying to imitate Coins.ph, it is best to report this incident to our team for us to be able to take the necessary actions. Kindly forward the suspicious email you have received to help@coins.ph with the subject being "FORWARDED PHISHING EMAIL".
Moreover, while our team is reviewing your report, please change your password immediately and make sure your mobile number is registered to your Coins.ph account for you to enable the Two-Factor Authentication (2FA) for additional protection. To know more about Two-Factor Authentication, click here.