What is PESONet?
PESONet (Philippine EFT System and Operations Network) is an electronic fund transfer service launched by the Philippine Clearing House Corporation. It allows customers of participating institutions (banks, e-money issuers or mobile money operators in the Philippines) to send and receive funds between one another. This payment system was established under the National Retail Payment System (NRPS), a policy and framework supervised by the Bangko Sentral ng Pilipinas for safe, efficient and reliable transactions.

PESONet is a convenient way to pay for government fees, businesses and other people for non-urgent transactions. This is also an easy payment method for bulk disbursements or payments, and also an alternative to checks.
Which banks can I use to cash in through PESONet?
At the moment, these banks have listed DCPAY PHILIPPINES INC (COINS.PH) as one of their receiving banks:
CIMB Bank
EastWest Bank
ING Bank N.V.
Land Bank of the Philippines
Metropolitan Bank and Trust Company (Metrobank)
Philippine National Bank
Philippine Savings Bank
UnionBank of the Philippines
United Coconut Planters Bank
HSBC Savings Bank
CITIBANK, N.A.
Dungganon Bank, Inc.
Devt. Bank of the Philippines
Bank of Commerce
China Bank Corporation
Equicom Savings Bank, Inc.
HK and Shanghai Banking Corp. (HSBC)
Bank of China
NOTE: If your bank enables transfers via PESONet but is not in the list above, you may contact your bank's customer support and request to add DCPay Philippines Inc./Coins.ph in their Receiver list.
How can I cash in via PESONet?

Make sure your Coins.ph account is

at least Level 2 (ID and selfie verified) and that a verified mobile number is linked to your account

.

Send a fund transfer via PESONet by logging into your personal online banking account. There is no need to create a cash in order through the Coins.ph app before making a transfer.

NOTE: For specific instructions on how to transfer funds via PESONet from your online banking app, you may proceed to detailed instructions below.

Input your Coins.ph account details to proceed with the transfer:

Bank: DCPay Philippines Inc. (COINS.PH)
Account Name: Your Coins.ph registered Account Name
Account Number: Your Coins.ph Registered Mobile Number

NOTE: Coins.ph does not charge fees for PESONet cash ins. However, your bank may charge processing fees when making a transfer via PESONet.

Once your fund transfer via PESONet is cleared, the fund will be credited to the Coins.ph Wallet linked to the mobile number provided.
Your Coins.ph cash in limits will still apply. If a customer is about to reach his/her cash in limits for the day or month, the fund transfer to DCPay Philippines/Coins.ph will be rejected and the refund should be issued by the sending bank the same banking day.
How do I transfer funds from my bank account via PESONet?

At the moment, the banks listed below has listed DCPay Philippines, Inc. (Coins.ph) as one of their receiving banks. You may view the instructions below on how to transfer funds from these banks.
1. CIMB Bank (No Fee)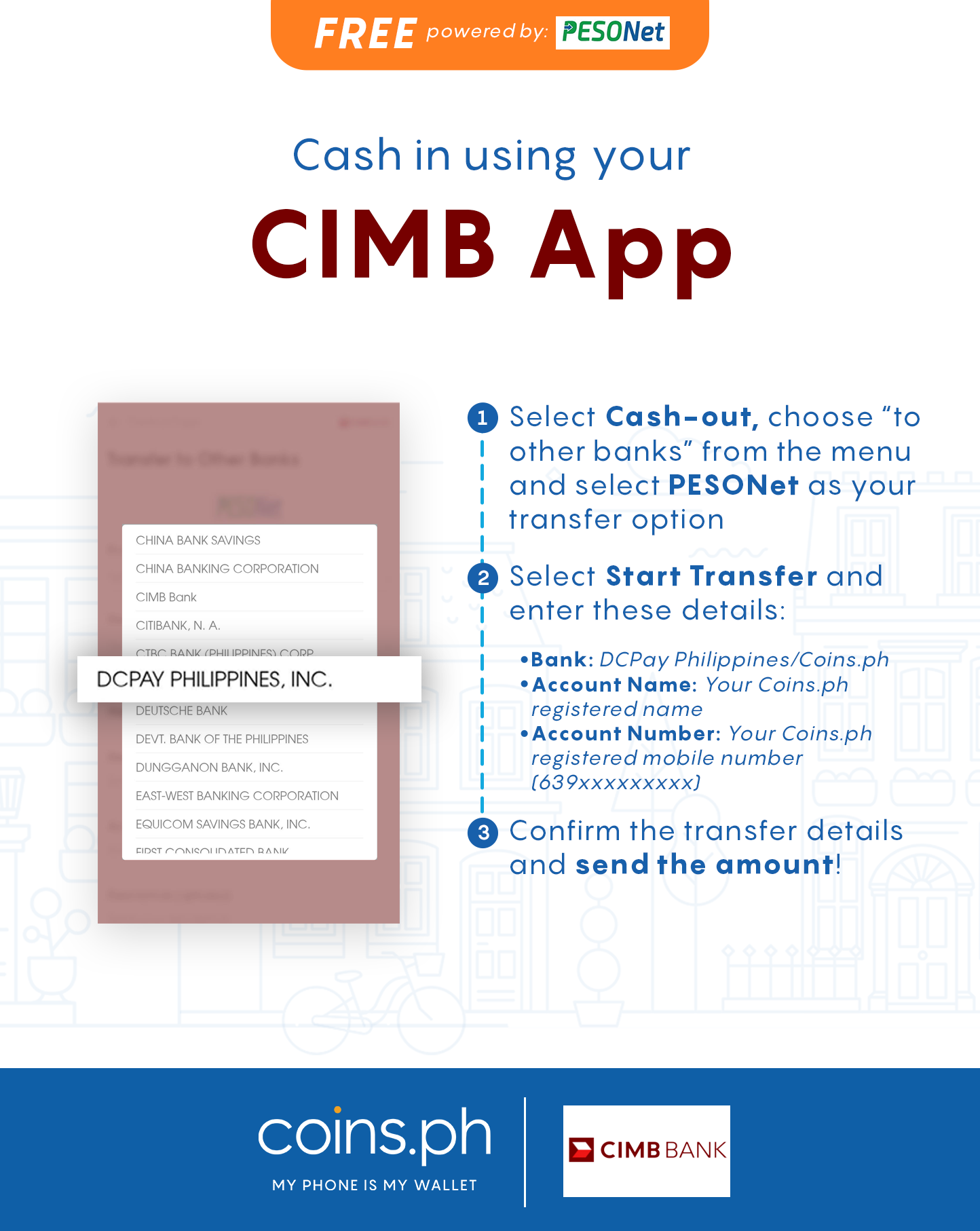 2. ING Bank N.V. (No Fee)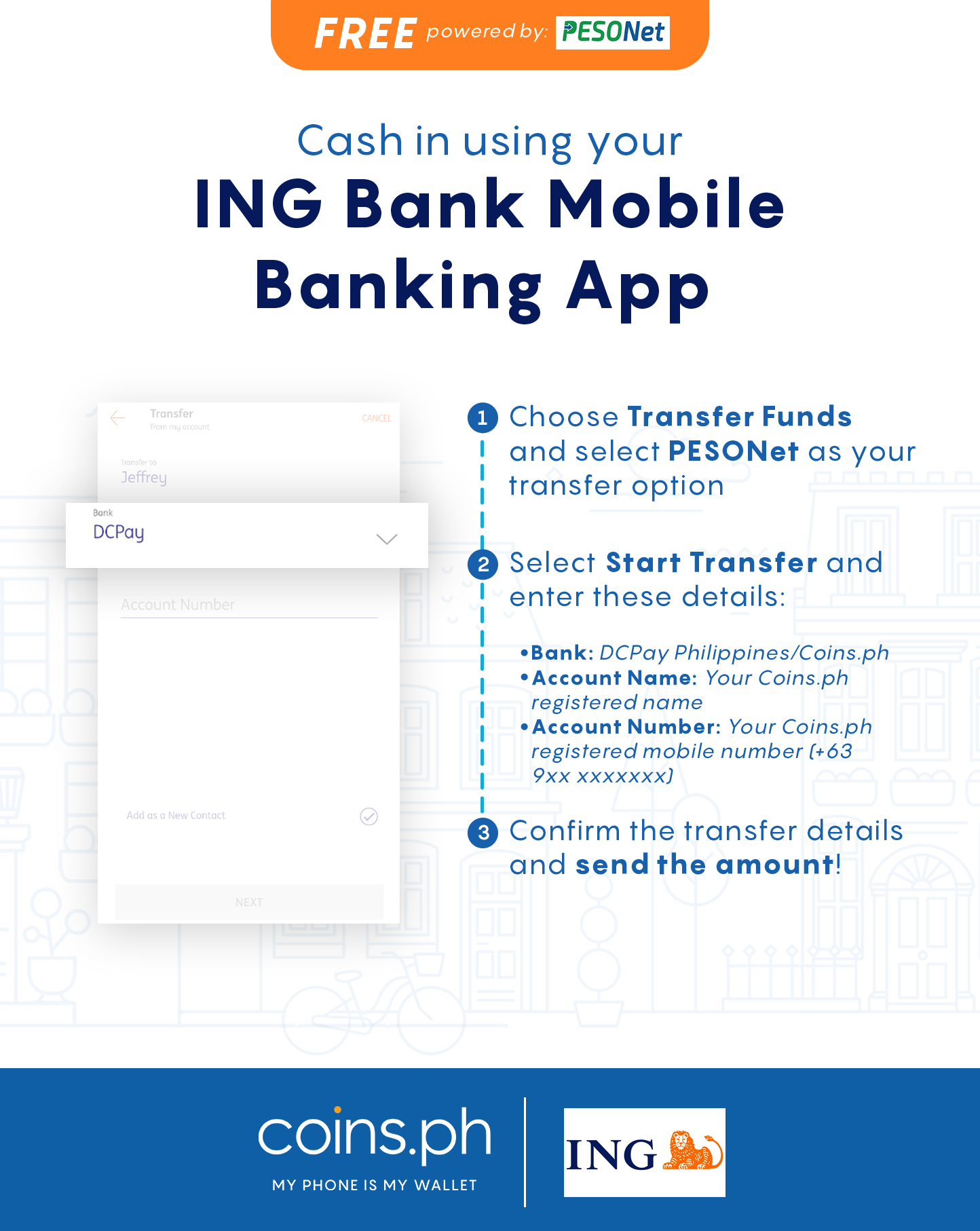 3. Metrobank (Fee: 100 PHP)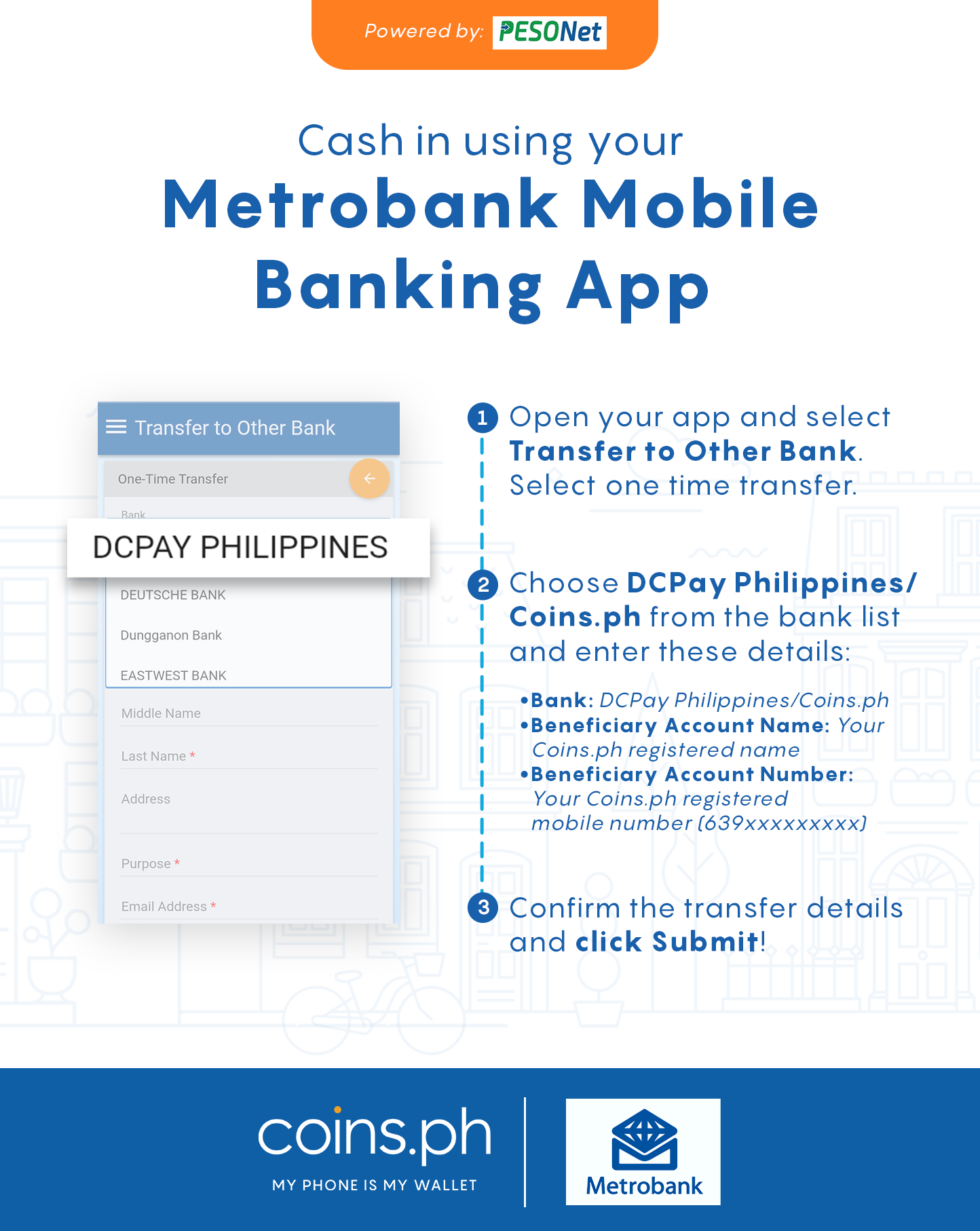 4. Philippine National Bank (Fee: PHP 30)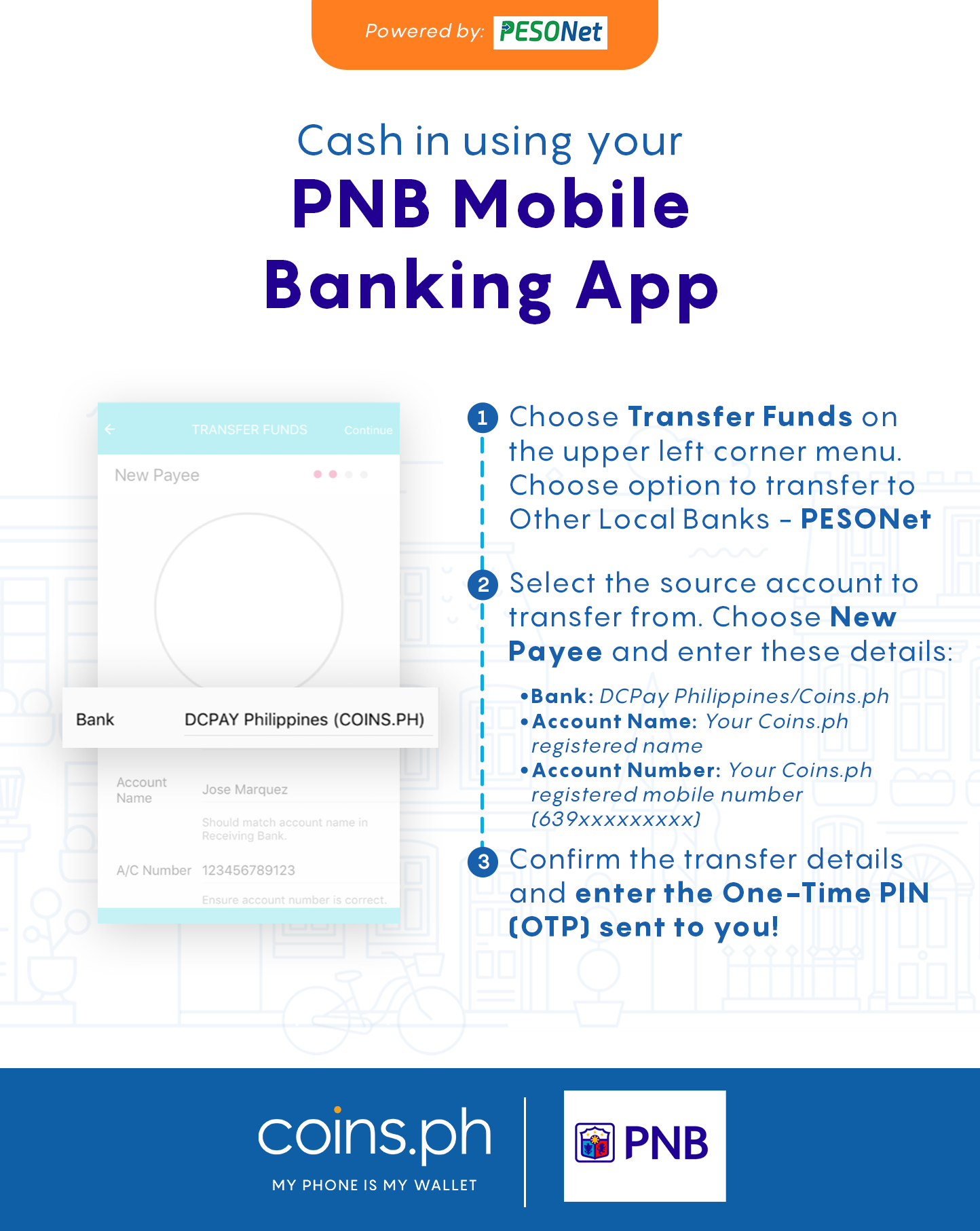 5. Philippine Savings Bank (Fee: PHP 50-150)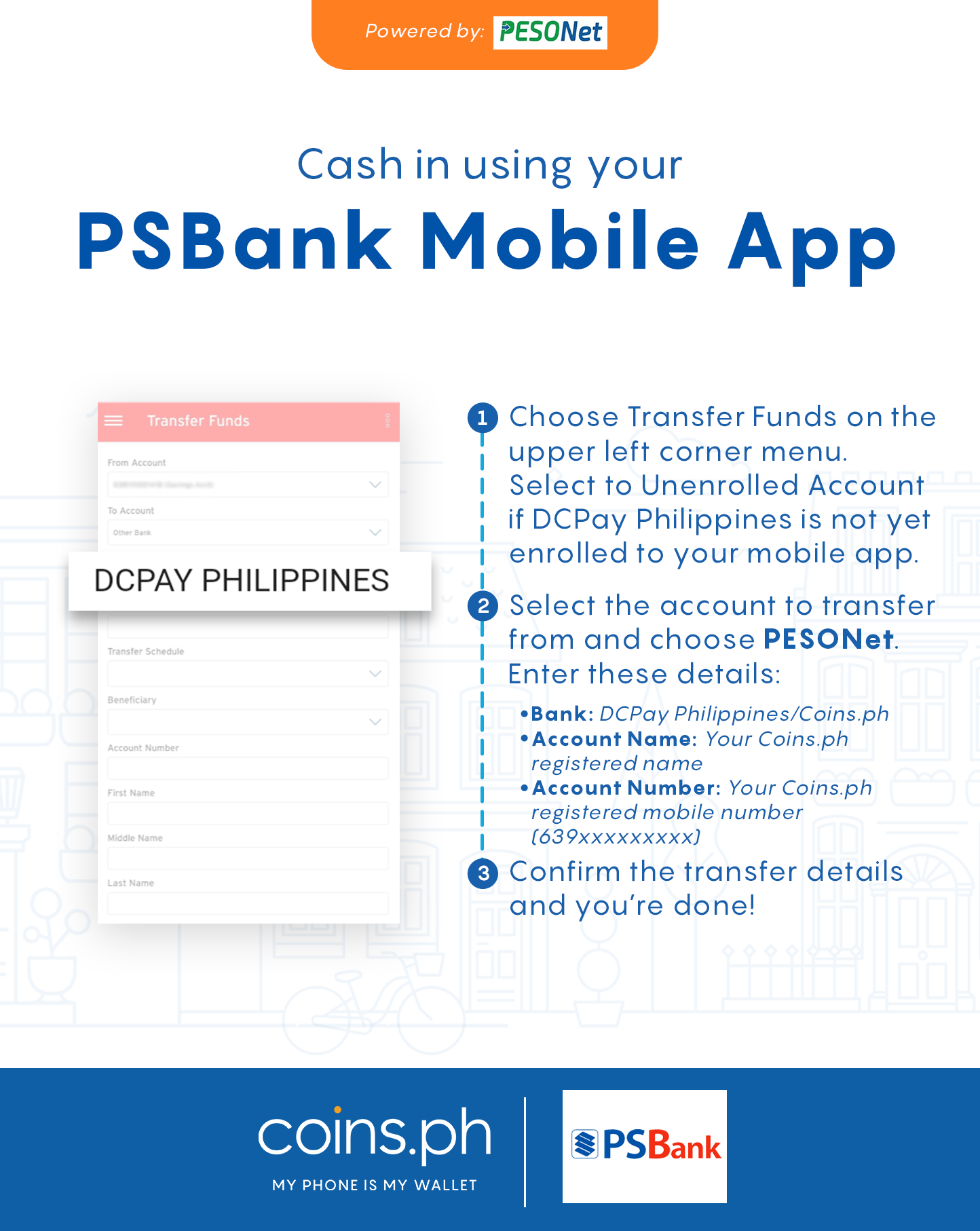 6. UnionBank of the Philippines (No Fee)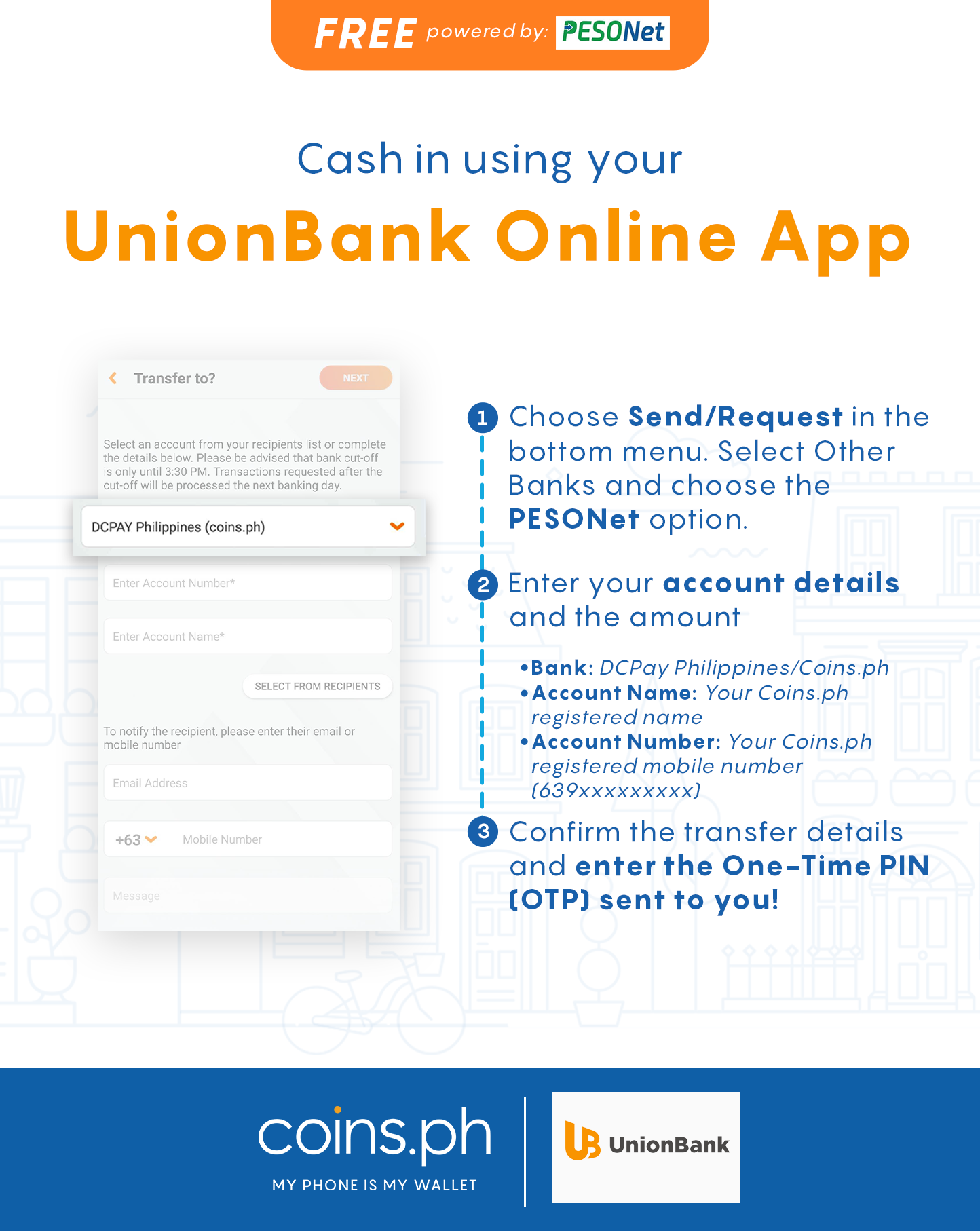 When will I receive my cash in via PESONet?
Cut-off time for PESONet transfers depend on the sending bank. All PESONet transfers places within the banks' cut-off time will be processed and released to your Coins.ph wallet by 3:00PM on the same banking day. All transfers which did not reach the banks' cut-off time (including transfers made during the weekend and holidays) will be processed the next banking day by 3:00PM.
How much are the fees for cash ins via PESONet?
Coins.ph will not be charging fees for crediting a cash in via PESONet. However, note that your bank may charge for the transfer and such charges via PESONet may vary per bank. The fee would be deducted from the customer's bank account.
Bank fees for transfers via PESONet as of July 2019 can be found in this link.
What is the minimum and maximum amount I can cash in via PESONet?
The minimum and maximum amount would depend on the ff:
Banks have set their own minimum amount for each transfer. The exact amount sent from your personal banking account (minus fees) will reflect on your Coins.ph wallet once your PESONet transaction has cleared.

The maximum amount you may transfer to your Coins.ph wallet through PESONet would follow your

Coins.ph cash in limits

. You may click on this

link

for more information.
NOTE: You may initiate multiple PESONet cash ins as long as it is within your Coins.ph cash in limits.
What if I entered an incorrect account number for my PESONet cash in?
Please be informed that all funds transferred via PESONet are considered final. With this, customers must exercise extreme care in providing the recipient information and amount to be transferred. The amount will be credited to the recipient information provided.

In the event that you provided the wrong account number, a request for recovery will be on a best effort basis subject to the account holder's consent as well as the beneficiary institution's internal policies on recovery. These will take into consideration: (1) availability of credited funds; (2) beneficiary account holder's consent to be debited; and (3) turnaround time. Returned funds may be subject to servicing fees for the recovery.

For any issues or concerns with your transaction, you may reach out to our support team at help@coins.ph.


For more information on PESONet, you may visit www.pesonet.info