You can think of your wallet as your bank account. Just like a bank account which has an assigned, unique bank account number, your wallet has an assigned, unique wallet address. A wallet address is required for receiving funds from an external wallet.
With your Coins.ph wallet, you may send, receive, and hold funds in several currencies including Philippine Peso and the cryptocurrencies BTC, ETH, XRP, BCH, etc. (full list). Note that you have a unique wallet address for the following cryptocurrencies: BTC, ETH, BCH, and XRP. You can also use your ETH wallet address to receive supported ERC-20 tokens (full list).
Finding My Wallet Address
To see your wallet address, first select which currency you want to receive. You may click on your chosen currency at the top bar, or swipe on your wallet balance to the left or right.
Once you have selected the currency you are about to receive, click on the Receive button. Kindly go through the important reminders for receiving each currency to avoid any losses.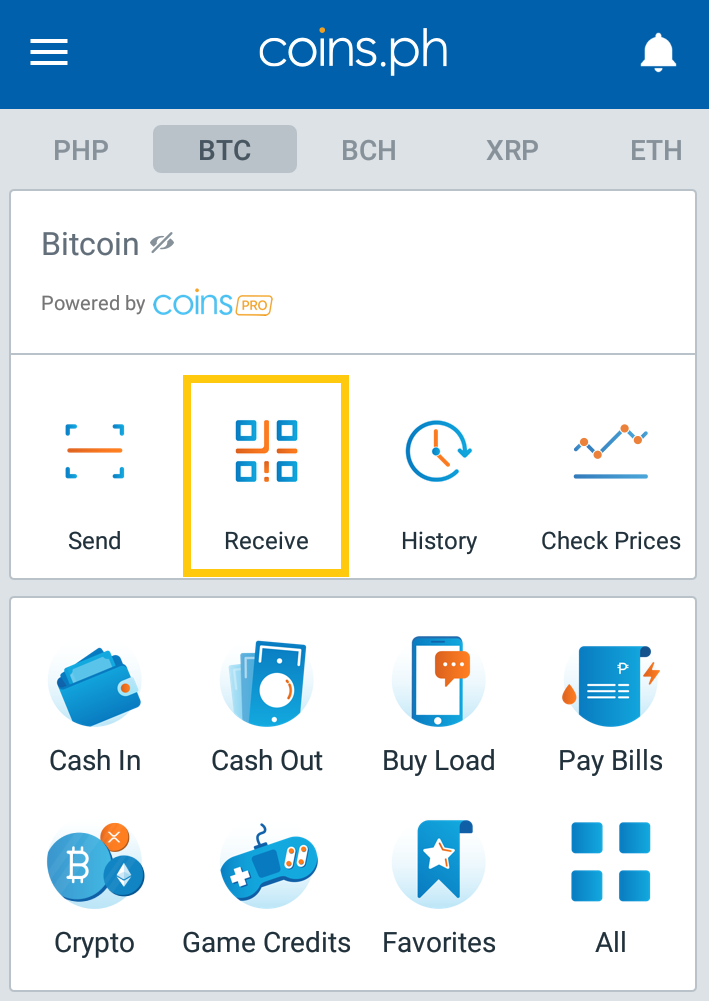 It is important to note that wallet addresses are case-sensitive. This means changing even just one letter from uppercase to lowercase (ex. changing a "G" into a "g") will turn it into a different address entirely.
Your Bitcoin wallet address may only receive BTC.
This address consists of up to 34 random digits (consisting of numbers and letters, both uppercase and lowercase). Here's an example of a Bitcoin wallet address: 13BE7m4GnGAbdxfzrTgaV9wYmHkGbrarAP
As Coins.ph is a hosted wallet, your XRP wallet address is the same with other Coins.ph accounts except for the destination tag.
The institutional wallet address of Coins.ph is rU2mEJSLqBRkYLVTv55rFTgQajkLTnT6mA.
To get your unique Destination Tag, click on the receive button of your XRP wallet to view and copy this. You may see a sample below: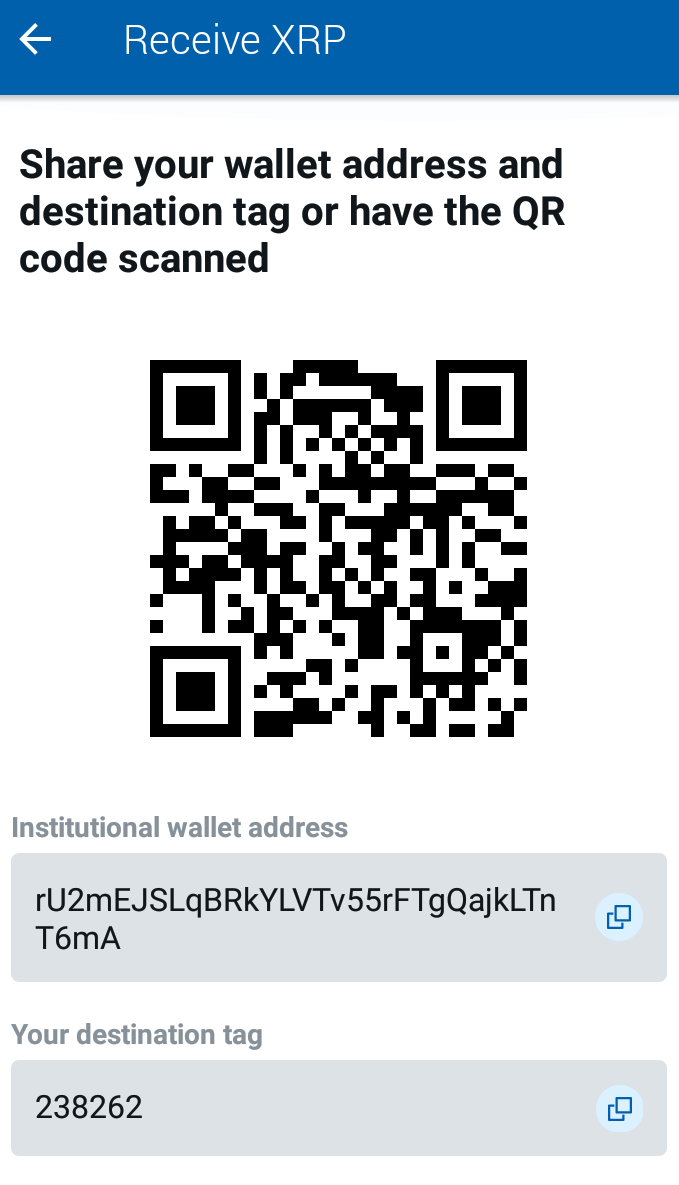 BCH Wallet Address
Your Bitcoin Cash wallet address may only receive BCH (BCHN).
The wallet address reflected on your Coins.ph BCH wallet is in the CashAddr format. This usually starts with either a "q" or a "p".
Here is a sample wallet address below:
Bitcoin Cash (CashAddr): bitcoincash:pzh0pv9f8n0lzrws8qcvpylquzuer58acqqmhmg7tr
If you need to convert your BCH wallet address to its Legacy Format, you may read more on the topic in this article.

Kindly note that your BTC and BCH wallet addresses are not interchangeable. If your wallet address is incorrectly used, this may result to a cross-chain deposit which may result to permanent loss of your funds.


ETH Wallet Address
Your Coins.ph Ethereum wallet address is a smart contract wallet, and it supports receiving funds sent using smart contracts. Your wallet may only receive ETH and supported ERC-20 tokens sent through the ETH network (i.e. these are viewable on Etherscan).
If a different kind of currency or token is sent to your wallet address, this would likely mean that your funds are permanently lost. Should you would need assistance from our team, feel free to send us a message here preferably including the transaction hash of your incoming transfer.